Philly-Bob's Free-for-All 2018

One man's visual art, largely consisting of digital manipulations of images, taken from (1) my own photographs/videos, (2) downloaded from the Public Domain, or (3) utilized under the Fair Use provision of copyright law.

Portrait by Remo Frangiosa
---
Artist's Statement
Although I have been interested in art and graphic design all my life, I only began working seriously after I retired in 2010.
January, 2018, update: In October, 2017, I changed artistic direction perhaps temporarily, perhaps permanently. In preparation for the February Animation Show at Philadelphia's Plastic Club, I have switched from my usual still images to animation and video. I intend to continue doing animation -- a much more time-consuming artistic discipline, with a steep learning curve, and many more variables -- until February, and then I will decide whether or not to continue with animation and video, or to return to the still images I have been doing since 2012.

My images are strongly influenced by the optical textures I see when I close my eyes and by what I see when I dream. They are also influenced by the hallucinatory visions I saw under the influence of anaesthesia following open heart surgery.
I often use commercial art, illustration, and typography as a source of ideas.
For maximum effect with my animations, click on the four-sided [] icon in the control bar, which should size the image to fit your screen. For my still images, click repeatedly on the image until it is full-size, which may be larger than your computer screen.
---
SONG TO THE SUN AND OLD-STYLE HOSIERY

Had a free afternoon, all alone. Finally finished this. It was very slow to finish this ambitious (and long) piece.


SOURCES:

MUSIC: 1989 composition for cello, "Cántico de Soledad," by Jose Miguel Moreno Sabio, performed 2018 by Serkin (Link1).
IMAGE: Cover photo from 1965 issue of porn magazine "Sheer Hose." (Link2)

Link1: imslp.org/wiki/C%C3%A1ntico_de_soledad_(Moreno_Sabio,_Jos%C3%A9_Miguel)#IMSLP519775
Link2: archive.org/details/sheerhose-1965-05


April 22, 2018
---
TALE OF WITCHCRAFT AND SORCERY

Slow going, but I'm recovering from cold.


SOURCES

Movie: 1922 Danish film "Haxan," English title "Witchcraft Through the Ages." It was banned in the U.S. (Link1)

Image: Engraving from 1760 "Description des pierres gravées du feu Baron de Stosch" (Description of Stone Engravings from the Collection of Baron de Stosch). (Link2)

Border: Cover design from undated Arabic book "Dawamataltadiyon".  (Link3)

Music: "Musica Para Khaos" by Celsium on 2018 collection "Spirare: Breathe Compilations."  (Link4)

Link1: archive.org/details/Haxan_tinted_and_subtitled
Link2: archive.org/details/descriptiondespi03winc
Link3: archive.org/details/dawamataltadiyon432
Link4: archive.org/details/brh18_V.A._-_Spirare 
 

April 18, 2018
---
SLAUGHTER OF BILLIONS

I like the look of this, but am troubled that the music (although lovely) doesn't match the subject matter. Generally, I 'frame' these as if they were television news segments -- but actually, these are more dreamy assemblages of random elements.


SOURCES

Image: Illustration from 1914 "The bird book: illustrating in natural colors more than seven hundred North American birds" (archive.org/details/birdbookillustra00reedrich)

Image: Cover of Quraan Majeed (Holy Koran) (archive.org/details/605QuraanMajeed)

Music: "Skylines" by Julia Gregory on 2018 album "Breathe Compilations" by Spirare 
(archive.org/details/brh18_V.A._-_Spirare)
 

April 12, 2018
---
MEANING OF PLASTIC

Two weeks without a new animation, because I came down with a nasty coughing allergy/cold. One of pleasures of modern convalesence is television bingeing (alt. spelling binging). Hulu has available all seasons of NYPD Blue. Plus I've been watching an English translation of a Turkish series called Diriliş: Ertuğrul, which is kind of like a Game of Thrones telling the actual story of the formation of the Ottoman Empire, from one man and his family hiding in a cave to an empire ("caliphate") that spanned a continent. The English translation can be seen at this link (wlext.net/series/dirilis-ertugrul-season-1?server=thevideome&episode=001). It made for an unproductive but hallucinatory period. This animation marks my first work since the crazy period of dropping my board position and coming down with an illness.
April 12, 2018
---
Considering a Change in Artistic Direction
Since I stepped down from the co-op board, I'm considering changing my approach to animation work. I'm considering switching from Photoshop to Video Studio 2017. Considering updating to Video Studio 2018. Considering changing the dimensions of my animations. Also, changing my sources. One possible source: on the archive.org website, there's an informal community of folks who upload old movies. I'm considering using more material from these.
Enjoying my dramatic angst over choosing a new direction. A bit paralyzed in the meantime.

Some Productive Video Sources
Link: archive.org/details/@solazev
Link: archive.org/details/@jerseywhitesox
Link archive.org/details/@der_klassiker

Also check out Solavez' collection of video-link collectors.
And this collection of silent films.

---
RADIO CELEBRATION ON GLAZED WALL, 1944

Two personal notes: (1) my term has ended on my Co-op board. I was nominated from the floor at the annual meeting, but I said "Thank you, no." I'm still on the Plastic Club board, but leaving the Co-op Board will free up my time in ways not yet known.
(2) the voice on this is a short extract from a radio broadcast by Norman Corwin. I love his voice, his poetry, his pace, and (for my techy friends), the levels, voice quality, and clarity.
Sources:


IMAGES:
Glazed-surface wall with window from from 1941 "Interior Wall Decoration" (Link1).
Images in window from 2016 catalog of ANSR motocross racing gear (Link2) and 
from 2009 catalog of Christie's jewelry auction (Link3)

SOUND:
Opening of CBS radio broadcast by Norman Corwin for 1944 V-E ("Victory in Europe") day (Link4).

Link1: archive.org/details/InteriorWallDecoration
Link2: archive.org/details/ansr_2016.05_catalog
Link3: archive.org/details/ChristiesGenveJewels13Maio
Link4: archive.org/details/onanoteoftriumph

March 28, 2018
---
J.D.F. -- A CONTINUING THEME

A deal I make with the universe. Every once in a while, I make a "Just Don't Fall" poster. And in return, my friends are reminded of this essential commandment. I saw a relative -- Janice's mother -- go from mobile free-spirit to invalid after a split-second stumble on concrete steps.
Actually, I like the pacing of this one, too.

Sources:


IMAGE:
Stairway illustration from 1941 "Interior Wall Decoration" (Link1), background illustration from 2016 catalog of ANSR motocross gear (Link2)

MUSIC:
Frederic Chopin "Andantino in A major, C.172" (Link3) performed 2017 by Mississippi College Piano Pedagogy

Link1: archive.org/details/InteriorWallDecoration
Link2: archive.org/details/ansr_2016.05_catalog
Link3: imslp.org/wiki/Preludes,_Op.28_(Chopin,_Fr%C3%A9d%C3%A9ric)


March 27, 2018
---
A GINGER'S QUIET MOMENT

Back to the Roving Eye style of animation. Much smoother, but I think I still need to pause motion over points of interest.

Sources:


IMAGE SOURCE

Engraving from 1887 "Engravings on Wood" (Link1) showing painting "Lacing the Sandal" by American F.D. Millet (1846-1912).  Millet died on the Titanic.

Link1: archive.org/details/gri_33125015065655


MUSIC SOURCE

Performance of a 1837 composition by Polish Frédéric Chopin (1810-1849), "Largo in E-flat major" performed on piano in 2017 by Harold Vetter (Link1).

Link1: imslp.org/wiki/Special:ImagefromIndex/516647/hfcn 


March 27, 2018
---
BOB'S EASTER WEEK DEVOTIONAL

I've been meaning to get this chant down for years. It captures the intense religious enthusiasm of the 1950's Roman Catholic church, when devotees were expected not to speak between noon and three p.m. on Good Friday, the supposed time of the crucifixion.
The oddball soundtrack was performed on a Casio VL-1, a primitive early synthesizer/calculator.

Sources:


Good Friday Chant

Keep the silence
Won't you
Keep the silence
Won't you
Keep the silence
'Cuz a man
Dies young

- Bob Moore

Background Music:
"Nummer Eins," a 1980 song for the Casio VL-1 by Galerie Lochte,
composed of two Europeans, Angelo Vitalo and Schwartau. (See link) 

Link: archive.org/details/DOTNF09

March 26, 2018
---
THE CLOWN SPRINGS OUT

First attempt at simultaneous zooming and rotating.
Check out English Marilyn Roxie, who did the music. From her website: "Hi, I'm Marilyn Roxie. I am a video artist and experimental photographer. I explore queer genders and sexualities, especially androgyny and male submission through the lenses of abstraction and found image." Not sure what pronoun to use.
Also, note the type used on the Trump overlay: it is a Rata Negra, a font with an ugly history. It was designed during the propaganda war between rightists and leftists during the Parisian student riots of May 1968 and was adopted thereafter by the European far-right, as below.


(GUD is the "Groupe Union Défense" or "Groupe Unité Défense" (originally named "Groupe Union Droit"), a French far-right student group.)
Note the anti-American details in the "Bienvenue aux Ennemis de l'Europe" (Welcome to the Enemies of Europe) poster shown above:


From left, that's the Statue of Liberty, MacDonald's, Uncle Scrooge McDuck, and a black basketball player climbing on a basketball backboard.
Sources:


IMAGE SOURCE

A page of 11th and 12th century
decorative murals from the 1891 
"La peinture décorative en France du XIe au XVIe siècle"
(Link1; translation 'Decorative painting in France 
from the 11th to the 16th century')

Link1: archive.org/details/gri_33125008816676

MUSIC SOURCE

"Raphael" song by Marilyn Roxie
on 2018 album "Sampler EP" by
Vulpiano Records (Link2)

Link2: archive.org/details/VulpianoRecords-SamplerEPVol.92018
Also, see marilynroxie.com

March 25, 2018
---
SEPULCHRAL SCULPTURE
Sources:

IMAGE SOURCE

Photo of "Monument aux Morts" (Link1, translation: 'Monument to the Dead'), a sculpture in Paris'
Pere Lachaise cemetery by French sculptor Albert Bartholome (1848-1928)

Link1: commons.wikimedia.org/wiki/File:P%C3%A8re-Lachaise_-_Monument_aux_morts_04.jpg


MUSIC SOURCE

Song "Dolente Immagine Di Fille Mia" (Link2, translation: 'Painful Image of My Girl' ) by 
Italian opera composer Vincenzo Bellini (1801-1835); performed on the piano by Héctor Valls. 

Link2: imslp.org/wiki/Special:ReverseLookup/516384


March 24, 2018
---
RUSSIAN THEATER CRAFT, 1902
Sources:

SOURCE MUSIC:

2018 performance by Steve's Bedroom Band
of Leon Kreutzer's 1867 composition
"Adagio in A-flat major" for two violins,
viola and cello. (Link1)
See discussion at (Link2) on
Kreutzer's "Octave Study."
 

Link1: imslp.org/wiki/Adagio_in_A-flat_major_(Kreutzer,_L%C3%A9on)#IMSLP514899
Link2: www.youtube.com/watch?v=GXZhmIiFHC0


IMAGE SOURCE:
From 1923 edition of
script for Maxim Gorky's 1902
drama, "The Lower Depths"
(Link1). Frontispiece photo shows
a scene in Act 1, set in a
homeless shelter.
Young acting pioneer Konstantin
Stanislavsky (developer of Method
Acting) is at table, third from
 right, pointing.

Link1: https://archive.org/details/lowerdepths0000gork



March 22, 2018
---
DOING TOURIST SPOTS WITH VISITORS
Sources:

See closing screens for sources.
March 21, 2018
---
NATURALIST ON SHELLS II

Another experimental video.
Sources:


See closing screens for sources.
March 20, 2018
---
NATURALIST ON SHELLS

An experimental video -- opening with my voiceover and face, instead of a title, and no music. Also, did it on a new computer (a Lenovo Thinkpad), and it seems to me the microphone on the webcam is nowhere near as good as the microphone on my previous Dell. Or perhaps it is a function of the operating system -- Windows 10. This is modern America -- the consumer is the crop. Also, image exploration is a little bumpy.
Sources:


This video examines an image of seashells from an 1873 nature book called "A Year at the Shore" by English naturalist Philip Henry Gosse. Gosse went on to virtually invent the institution of the seawater aquarium. He led an interesting life. In 1838, Gosse took a job in Alabama as a tutor on a Southern plantation, where he observed nature -- and Southern society. In a letter from that period, Gosse said "I feel slavery alone to be so enormous an evil, that I could not live here: I am already hastening to be gone." Besides being a skilled draftsman (albeit with the uncredited assistance of his wife) Gosse was a member of an extremely conservative religious congregation and published books arguing against the evolutionary ideas of Charles Darwin. 

SOURCE IMAGE: Illustration 
captioned "Limpet, Purple, and Slit Limpet"
from 1873 book "A Year at the Shore" by Philip Henry Gosse.

LINK: archive.org/details/yearatshore00goss_3
March 18, 2018
---
BRIGHT SPOT ON INTERNATIONAL SCENE?
Sources:

IMAGE: Collage appearing on cover 
of premiere issue of "Radio 4 Rojava" (RFR),
February 2018. 

archive.org/details/radio_4_rojava_1

MUSIC: Extract from "Dear Viyan", 
song by Miranda De La Frontera
on the album "Music, Awareness & Solidarity
w/ Rojava Revolution" by the Berlin-based 
label "Female Pressure."

soundcloud.com/femalepressure/sets/rojava-female-pressure



The following recent news report (from VOX) gives some background on the situation.

As today (3/16), the Turkish army is still bombing the Rojavan city of Afrin in an operation called "Operation Olive Branch." Here's a news-site that covers current Rojava news (with a pro-Rojava viewpoint). Here's a Russian justification of the Turkish offensive. Here's Jazeera's critical view of the "libertarian myth" of Rojava..

These events provide a compelling narrative (one among many) for the unending mayhem in the Middle East. Stateless Kurdish men and women defeat ISIS militarily to claim territory in Northern Syria and attempt to install a democratic and inclusive system of government which is praised by European socialists and feminists. Neighboring Turkey views the development as another Kurdish challenge to be suppressed. ISIS views the development as a threat to their intended Caliphate.

As I wrote to a friend: "Does Rojava have an actual chance of survival in the brutal world of Middle Eastern politics? Is it a cynical manipulation of Western liberals by desperate Kurds?" It reminds me, in some ways, of the circumstances of the Spanish Civil War of the 1930's, a romantic, idealistic -- but doomed -- act of rebellion against an oncoming period of international conflict and tyranny.

March 16, 2018
---
YOUNG GIRL IN HANDS OF ANGEL

In the accompanying science fiction story I tell myself in my head: a more elaborate viewport for cloud exploration.
In artistic reality: check out how a contemporary Italian composer wrote an organ Nocturne to honor a 150-year old painting by a Japanese artist.

Sources:


See notes at end of video.

March 14, 2018
---
NEED TO CONCEAL

Officials discovered that the virus that hit a Cloud Survey Team (see "WHEN THE SURVEY GETS DANGEROUS" yesterday) was not an accident. It happened because some thing in the cloud detected the observation. The virus was, in some sense, a counter-attack, a warning shot, a defensive measure. By what? By whom? Anyway, Cloud Survey Teams like mine are advised to be as inconspicuous as possible. I tried out a faux-leaves around the viewport, like the camouflage on tanks and battleships used in the wars of the 20th century. Despite the concealment, my survey triggered some sort of attack (marked by a bright red coloring) at the end of the video.

Sources:


See notes at end of video.

March 12, 2018
---
WHEN THE SURVEY GETS DANGEROUS

I've been too lazy to write it down, but there's a continuing story behind these "Cloud Survey Team"/Viewport images. In short, the entire Internet has been wiped out. No one knows what happened. The world government encourages Cloud Survey Teams (CSTs) to explore the zeroed-out bits and bytes of the old Internet, seeking the remnants of information, trying to find out what happened. After one CST is infected by a voracious virus, CST's are told to institute high-security viewports -- like this one.

Sources:


IMAGE: Illustration of two 18th century engraved beer mugs
from the 1902 book "Die Gläsersammlung des Nordböhmischen
Gewerbemuseums in Reichenberg" (Translation: The glass collection
of the North Bohemian Trade Museum in Reichenberg) (Link4)

Link4: archive.org/details/gri_33125015065267

MUSIC: "Latency Number 5" is a song
by TKno BeurK (Ed End) from his 
album "DEDDOTAIMU" (Link1) which is, in
turn based on an album "La Perpendiculaire
des Bruits" by Berthelot (Link2).
Another album based on the that album is
"Apothmes Bruitistes" by Berthelot and
Launay (Link3).

Link1: archive.org/details/DEDDOTAIMU_TKnoBeurK
Link2: archive.org/details/MI232-Berthelot-La_perpendiculaire_des_bruits/
Link3: freemusicarchive.org/music/Berthelot__Launay/Apothmes_Bruitistes/L


March 11, 2018
---
WOODEN MOLDING CATALOG
Sources:

IMAGE: 1930 catalog illustration 
from "The book of carved wood decoration"
by Klise Manufacturing Company
of Grand Rapids, Michigan.

archive.org/details/TheBookOfCarvedWoodDecorationSupplementB_201803

MUSIC: "Intro", song from 2017 album
"Forgotten in the Void" by 
Russian group "Nebulas Mœroris"
(Mists of Sorrows)

archive.org/details/IBR_367


March 10, 2018
---
BLUE MOUNTAIN
Sources:

See closing scenes

March 9, 2018
---
MOUNTAIN TRAVEL PAINTING
Sources:

(See last pages of animation)


March 8, 2018
---
FORTIES FASHION A CONTINENT AWAY

Trying size at 405x720 pixels. Hint: the control bar at the bottom of the media player has an icon that tells your computer to automatically size the image to your screen. (At least in my Chrome brower.) Meanwhile, still experimenting with pan, zoom, and layer masks.
Sources:


(from last pages of animation)

IMAGE: A portfolio of women's evening
dresses headlined "Dinner at 8" 
in a January, 1938 issue of 
"Australian Women's Weekly" (Link1)

Link1: archive.org/details/The_Australian_Womens_Weekly_22_01_1938

MUSIC: Section of a track "P.I.Z." 
from Floating Mind's album "Et Si..." 
(Link2) from the Switzerland-based 
label MonoKraK.

archive.org/details/MonoKraK208FloatingMind_et_si 


March 7, 2018
---
PILLOW-HUGGING WOMAN AND BRITISH MOSSES

Continuing the experiment in size at 540x960, and interim theme of young woman and plant. Cutting short on bibliographic information on this page, relying on the source pages in the animation.
Sources:
See closing scenes of animation.
March 4, 2018
---
CURIOUS MAID AND PLANTS

An experiment in image size: 1080x1920 pixels (which is the size of my Android phone). I have learned how to display my animations on the phone. But in my opinion this is too large for my webpage. Previous images were 500x480. Maybe next one should be a compromise of 540x960.
Sources:
See closing scenes of animation.
March 3, 2018
---
BARCELONA BAND AND WATCH GEARS

Using a short segment of a haunting song by the Barcelona music group Your Mother (Link1) as background, we visit various areas of a large image of gear from a Sotheby's fancy watch auction catalog (Link2).
Sources:
Link1: archive.org/details/YourGraceThatHolyMountain
Link1: archive.org/details/TheCelebrationOfTheEnglishWatch
March 2, 2018
---
NEW COMPUTER

First free time after Plastic Club animation event, buy a new computer: a refurbished Lenovo ThinkPad Lenovo T450 laptop with 128 gig solid-state hard-drive, cost $329. This image was produced to check installation of programs.
---
The image is from the computer's webcam. The music Signore, Pieta (Link1: "Lord, have mercy") is a traditional Baroque religious song performed by pianist Hector Valls.

Sources:
Link1: imslp.org/wiki/Piet%C3%A0,_Signore_(Anonymous)#IMSLP513435
February 27, 2018
---
CLOUD MEMORY SURVEY TEAM DISPATCH 3

Evolving story: "Another photographic data fragment was discovered at 100.19.39.216. It appeared to contain some flower shapes, so we consulted with United Nations plant biologists, who said it appeared to be the Colorado Tansyaster (Xanthisma Coloradoense), a now-extinct species that occured in small populations in two states: Colorado and Wyoming."
---
The image is from a 2017 issue of Aquilegia (Link1) published by the Colorado Native Plant Society. The Colorado Tansyaster is indeed an endangered species.
An additional layer includes an overlay of an image of 17th century Milanese lace from a 1901 issue of The Connoisseur (Link2).
Music is from a recent album by Dadive called Frightening Freighters (Link3).

Sources:
Link1: archive.org/details/GuiaCompletaDeLaCALIGRAFIAARABEExtendidaEspaol
Link2: archive.org/details/gri_33125006090647
Link3: archive.org/details/MonoKraK207Dadive_FrighteningFreightersEP
February 25, 2018
---
CLOUD MEMORY SURVEY TEAM DISPATCH 2

Evolving story: "A second surviving graphic data fragment was discovered in dataspace which had been presumed to be wiped by the EMPUO at 100.19.39.216. Our CMST circled the formation and measured it to be roughly 3700 by 5700 pixels, marked by strong straight verticals and smooth Bezier-like curves. Colors were dark blues and complements. There was no surrounding data field."
---
The image is from an undated book "Guia Completa De La Caligrafia Arabe Extendida" (Link1). Music is from a 2018 album Six Degrees: eXperiments (Link2) by composer Keith David Doyle.
Sources:
Link1: archive.org/details/GuiaCompletaDeLaCALIGRAFIAARABEExtendidaEspaol
Link2: archive.org/details/SixDegrees_201802
February 21, 2018
---
MEMORY CLOUD SURVEY TEAM DISPATCH

Evolving story: "When the Electromagnetic Pulse of Unknown Origin (EMPUO) erased all electronic data, the whole Internet was reduced to a unreadable jumble of zeros and ones. In order to recover valuable records -- and to trace who was responsible for EMPUO -- the United Nations authorized Memory Cloud Survey Teams (MCST) to search the scrambled memory for matches to the thousands of different data formats in use at the time of EMP20. Our MCST was assigned to survey a memory sector using a photographic file compression format known as JPEG. We encountered an unusual cluster of coherent information at 100.19.39.216. We circled it to determine scale. It was roughly 4600 pixels wide by 6000 pixels high. The cluster's surface was variegated in color and seemed to be surrounded by lines indicating a data field (whether attractive or repulsive we couldn't determine.) "
---
I tried to figure out a way to put this text into image, to turn it into a science fiction story. but ran out of time.
The image is a photo of a large 18th century floral spray brooch from a 2017 catalog called Jewels of Portugal (Link1) by the S.J. Phillips Collection.
Music is a 2018 song, "New Horizons," from the album Legends of the Imminent Winter (Link2) by Russian musician Marcus Denight.
Sources:
Link1: archive.org/details/JewelsOfPortugalTheS.J.PhillipsCollection2017
Link2: archive.org/details/marcus-denight-legends-of-imminent
February 20, 2018
---
CROWN OF THORNS

Left, a video exploration of an image (right) of the head of Jesus, from a crucifix created in the 15th century by Austrian sculptor Michael Pacher in the city of Bruneck. It is from the 1909 book Michael Pacher (Link1). Music in video is from a 2018 album by Indonesian musicians Hafid Kurnia and Tebatabata, called The Day After We Were Alone (Link2).
Also entered this video into the Plastic Club-hosted Philadelphia Independents Animation Festival.
Sources:
Link1: archive.org/details/gri_33125015064740
Link2: archive.org/details/WAC09HafidKurniadanTebatabataTheDayAfterWeWereAlone
February 17, 2018
---
PATTERN FROM MOLDINGS

Left, a video exploration of a pattern (right) created by manipulation of figures in a 1930 trade catalog by Boynton-Waddell Company called Cut and embossed mouldings In wood (Link1). Music in video is from 2018 Música Refinada by Brazilian musicians Guilherme Darisbo & Marcelo Armani (Link2).
May enter video into the Plastic Club-hosted Philadelphia Independents Animation Festival.
Sources:
Link1: archive.org/details/CutAndEmbossedMouldingsInWood._201802
Link2: archive.org/details/051-DarisboArmani-Musica_Refinada
February 14, 2018
---
NUDE AT DAWN

IMAGE: "Dawn", a photo from a 1937 edition of "Amateur Photographer & Cinematographer" (Link: archive.org/details/amateurphotograp84ilif). The photographer is Australian-born English photographer Rosalind Maingot.
MUSIC: "Okrualno I", a song by Janne Nummela from 2017 album "FLOW(ER(ROR)" (Link: archive.org/details/mhrk194)
This animation -- I call it a roving eye technique -- only took about six hours.
Sources:
See animation
February 11, 2018
---
WEEKEND REVIEW 2/10-11/2018

Decided to switch to a schedule of daily still images (maybe just 3 or 4 a week) and one weekly animation to keep my animation skills current. Today's animation took me nearly 12 hours. Trying to set an ambitious pace, but not one that will -- well, literally, kill me.
Sources:
See animation
February 10, 2018
---
SCRAP OF FABRIC

A ragged textile specimen from the 1900 Etoffes byzantines, coptes, romaines, etc. du IV au X siècle (Link1; Google Translate: "Byzantine fabrics, Coptic, Roman, etc. from IV to X century"). My guess: a carpet.
Sources:
Link1: https://archive.org/details/gri_33125015064559
February 10, 2018
---
FLAG DESIGN IMPROVISATION

A wild improvisation on a set of speculative designs (Link1) by Anne Ominous in competition for a new Australian national flag. My riff on Anne's designs is meant to be respectful, though totally unrelated, of her detailed and thoughtful graphic work.
Sources:
Link1: archive.org/details/LestWeForgetOzFlagDesign
February 9, 2018
---
SUN-DRENCHED PHOTO

A photo from a 1937 edition of Amateur Photographer & Cinematographer (Link1). Accompanying texts discusses the difference between shooting in the studio and shooting outside.
This image marks a return to my earlier graphic style, with text (in Woodcutter Rude Press font) and trilobite and expansive framing, before I decided to try animation in October.
Sources:
Link1: archive.org/details/amateurphotograp84ilif
February 7, 2018
---
EXPLORING ARTIFACTS #1: JAPANESE BROCADE

A video scan of a Japanese brocade from the Boston Museum of Art, from a drawing in a 1909 Art and Progress magazine (Link1). Background music is from the album Remember_To_Let_Go (Link2) by Jiri Blazek & Brian Ruskin. It goes too fast; I have not been able to figure out how to slow it down in Photoshop Video timeline.

Sources:
Link1: archive.org/details/artprogress04amer
Link2: archive.org/details/RememberToLetGo_2018

February 6 , 2018
---
LOST IN THE WOODS I and II

A composition of elements from the 1910 Stencils & stencil materials (Link1) by Sherwin- Williams. Top layer is a stencil showing a forest, the lower layer is a color chart of paints.
Did another version of this image, using (for the first time) Photoshop frame animation. Saved as GIF file. But unfortunately, I set it to loop FOREVER. Not sure how to control looping behavior.
Other animation projects:(1) Therapist and alien, (2) Pepe Frog.
I return to my older graphic design style, on a blissful free Saturday, with only a few errands. On one of the errands, however, I was hurrying home pushing a folding shopping cart down the street, when the cart hit a bump in the pavement, and I fell face first on top of the cart. The only damage was a scrape and bump on my leg, which I only noticed some two hours after the fall. Thus, I violated the cardinal rule of this period of my life: "JUST DON'T FALL."

Sources:
Link1: https://rchive.org/details/stencilsstencilm00sher
February 3, 2018
---
AGE ISSUES

From the 1896 Handzeichnungen alter Meister aus der Albertina und anderen Sammlungen (Link1; Google Translate: "Hand drawings of old masters from the Albertina and other collections"), two drawings. In the background, a 1519 brown head study from the school of Lucas Cranach. In the foreground, on the left, a decorative design showing a young man sketching or writing in a book, set against a design of flowers.
Sources:
Link1: archive.org/details/gri_33125010105019
February 2, 2018
---
ITALIAN MARKET

Visiting Philadelphia's Italian Market. The colorful neighborhood (which has its own Tourist Center) has gone through ethnic population shifts since its heights in the past, as witnessed by this shop window double poster. Janice and I got on the waiting list for an apartment there -- but we hope we never have to move.
Sources:
NA
February 1, 2018
---
PRESIDENTIAL PORTRAIT

Walking West on Walnut Street, I passed a small artist's studio displaying the picture above. Note the way the painting makes goatish ram horns look like Trump's orange hair. The text reads:


Dear Donald,  	

I am so proud of you for taking from the poor and giving to the rich.
For being just racist enough, having Congress and the[m]
eating out of your hand. For being a graet [sic] liar, 
you're the biggest bully in the political playground. 
When this job is done, the United States of America will 
be in total chaos. 
Last but not least, remember Pride: You have lots of it, it's a sin.
I know you're tr[y]ing to start a war. I can help! 

Your father

But there's a disturbing element here. I'm well-acquainted with American liberals' intense dislike of this president. But that dislike can unhinge the hater. What does the artist mean in offering to help Trump start a war? Why is the message signed "Your Father"?

These are times when people seem to a bit unhinged. I am reminded, once again, of William Butler Yeats' 1919 poem The Second Coming. I see it in my nation, and I see it in my own building, where a post-Trump tax rise has encouraged existential panic, irresponsible rumors, and political manuevers by those who promise "I can fix it."

It is the night of the State of the Union address; and I am depressed because if I no longer believe in the common folks' ability to reason and distinguish truth from falsehood and vote in their own interest, then what do I believe in?
Sources:
NA
January 31, 2018
---
WAKENING FROM COMA

After three months of working hard -- almost obsessively -- to learn the basics of video animation, I find myself like a man awakening from a coma: socially isolated; slowed by a shoulder injury, origin unknown; and deconditioned from a sedentary easy-chair indoor lifestyle. I wonder what comes next?

A hint of what comes next is this quote from the 13th century Italian poet Dante Alighieri. It is from his third book, Paradiso. Comparing myself to Dante, I have travelled through, first, the Inferno of Hell, then Purgatory, and now have arrived in Heaven -- which turns out to retirement, with Internet. What I intend to do now with my remaining time on earth -- with 73 years gone already -- is to recall items in the treasure houses I have seen: in the archives of the public domain, in my own journeys, and in the dark complexities of social media.

The context is that, even aside from the issue of my own lifespan, we live in dangerous times, with the survival of post-WWII Anglo-American democracy as I know it in some peril, threatened by climate, war, and civil catastrophe. I am like a solitary monk recording memories and impressions as a mighty empire collapses around me, horrified but helpless to change the course of events.

The quote from Dante is:
"Nevertheless, whatever portion Time
still leaves me of the treasure of that kingdom
shall now become the subject of my rhyme."


The image is my first non-animation since October. The lettering is in Woodcutter's Army Stencil font. Woodcutter is a skilled but irreverent Spanish artist, a real bad boy -- check out his "reinterprets" and his collection of vintage fonts he found on his travels.

The quote is superimposed on two mingled layers: (1) my photograph, taken today, of a broken window on Philadelphia's Walnut Street and (2) a drawing of a column from the 1821 The architectural Antiquities of Rome (Link1).
Sources:
Link1: archive.org/details/gri_33125015059856
January 30, 2018
---
---
ANOTHER FASCIST PLOT SPOILED

Another animation looking backward to pre-WWII geopolitics. Based on Harry Hathaway's 1941 movie Sundown (Link1), set in Kenya when it was an English colony. Also includes a reference to the multiple short, catchy bugle calls of the English army (Link2), which appear in the movie, as interpreted by award-winning composer Miklós Rózsa.
This may be my last animation before the January 27 deadline for entries to the Plastic Club's Movement, Motion and Sequential Art show. I started out on my journey to learn video/animation techniques in late October of last year, and have done nearly 45 animations of different styles and quality in these three months. Unclear what my direction will be after the animation show. Unclear which animations I will enter into the show. I am somewhat exhausted after the effort, but am proud that I was able to achieve results.
Sources:
Link1: archive.org/details/sundown_374
Link1: www.farmersboys.com/MAIN/Bugles_Calls.htm
January 24, 2018
---
UNCOVERING NAZI SKULDUGGERY

A shorter piece, without my narration, built around an exciting scene from Alfred Hitchcock's 1940 film Foreign Correspondent (Link1). It is depressing that these days some Americans and Europeans openly espouse Nazism, despite the tale of suffering it caused last time around.
Sources:
Link1: archive.org/details/xoR9Pb8xYGLIElhh1940
January 21, 2018
---
CARIOCAN STORY

A very long (nearly 14 minutes) critical and artistic view of a 1965 Brazilian film, A Falecida (Link1; translation from Portuguese: "The Deceased"). Took a very long time to do, with a lot of frustration, but made some technical breakthroughs. Humming ad-libbed by Janice. It's depressing at the beginning -- a death scene! -- but stick around to the end.
Sources:
Link1: archive.org/details/AFalecida1965Bras#
January 18, 2018
---
REMEMBER BROADWAY MUSICALS?

Parts of a Judy Garland performance from a 1946 musical biography of composer, Jerome Kern, Till the Clouds Roll By (Link1). Also, a kind of grumpy rant, an experiment with closing comment instead of opening comment.
Sources:
Link1: archive.org/details/ctall1956b_gmail_8881
January 10, 2018
---
MEXICAN LOVE STORY

Remarkable music and a surprising sense of female fashion in a 1952 Spanish language film, Cartas a Eufemia (Link1). Again, entirely done in Photoshop, but I think the audio levels are inconsistent, and I would have to learn to adjust them in another program or adjust them in Photoshop.
Sources:
Link1: archive.org/details/0zwm8r7L4e09ERie1952
January 9, 2018
---
A DAUGHTER'S CURSE

Experimenting with getting my own handsome mug into the mix, recreating the format of the radio news stories I did in the 1980's. Entire job done in Photoshop. Video source is 1936 Dracula's Daughter (Link1).
Finished annual switch to Philly-Bob's Free for All 2018.
Sources:
Link1: archive.org/details/DraculasDaughter1936
January 6, 2018
---
SCIENTIST VS. CORPORATIST MONOPOLIST

A scene setting up the plot of a 1938 action mystery, Bulldog Drummond in Peril (Link1).
Next move is to file away 2017 work and redo for 2018. Probably tomorrow.
Sources:
Link1: archive.org/details/BulldogDrummondPeril1938
January 4, 2018
---
MORNING SCENE

Opening sequence from a 1981 Indian movie, about the misfortunes of young girl in India in the 1920's. Here's the plot summary:
"After the passing away of her parents, Mangala moves in with her maternal uncle, his wife, and five cousins, who all live a poor lifestyle in a small town. She has a sweetheart in Anoop and hopes to marry him someday. When Anoop hesitates, her marriage is arranged elsewhere, however, on the day of the marriage, the groom meets with an accident and passes away. Her aunt quickly gets her married to a singer named Anand. After the marriage, Mangala is shocked to find that Anand is blind and detests him. When she finds out that he cares for her, she changes her mind and falls in love with him. Then Anoop re-enters her life, Anand finds out, and drives her out. Mangala returns home to her aunt, but she refuses to accept her. Then Mangala finds out that Anand has become a famous singer as well as an alcoholic. She goes to his house in Bombay, gets herself hired as a servant, calls herself Daasi, and pretends to be dumb so that Anand cannot hear her voice and recognize. Eventually she settles in, Anand is pleased with her work, but she also finds out that he hates Mangala; then publicly announces that he is going to marry a dancer by the name of Tara; Tara, catches her stealing a necklace, and to complicate matters even more - Anoop re-enters their lives again."
Happy New Year, everybody!
Sources:
Link1: archive.org/details/HXOxh8wE0jwNlaoO1981
January 1, 2018
---
A WOMAN'S REVENGE

An incident from a 1982 movie about India's fight for independence, Desh Premee (Link1; "The Patriot"). Underlying it is music by Chilean electronic musician Eduardo Yanez Torres (GOZNE) from his 2017 album Fin del Tiempo (Link2; "The End of Time").
Work was mostly done in Photoshop, which allows me to adjust sizes to dimensions other than the usual TV and movie formats.
Sources:
Link1: https://archive.org/details/JB2uF3Tdu9ug5gMD1982
Link2: archive.org/details/pn127

December 27, 2017
---
ARGENTINIAN SINGER AND FRENCH PHILOSOPHER

As year ends, I think I am moving beyond simple experiments. This one is a more finished work. It features the music of Coni Ciblis (of Buenos Aires, Barcelona, and London) combined with quote she recommended on her social media. I like her voice a lot.
Merry Christmas & Happy Holiday, everyone. Sources:
Link1: archive.org/details/ConiCibilsUnLugar
December 25, 2017
---
ARCHIVE: Webpage Proprietor's Portraits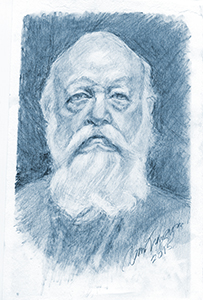 Time to change my image at top of this web page. The new image is a small pencil portrait done by Remo Frangiosa. It was done while I sat for Remo's portrait class over a two-week period at Philadelphia's historic Plastic Club in September, 2015.
The second image is a larger painting I commissioned from the Plastic Club's Andy Hoffmann.
Next are two other images also used as masthead portraits. Third image is an iPad self-portait in a coffee shop (approx. 2014). It is probably the best representation of my revulsion at the aging process and my sadness at the prospect of diminishing cognitive powers.
Fourth is an attempt to limit portrait to the fewest number of facial features and still be recognizable (approx. 2012). (Sorry: unlike the other images on this page, these masthead pictures don't enlarge when clicked...)
Fifth is a drawing done in our Open Studio workshop by Meri Collier, a Toronto-based artist and member of the Plastic Club.

For other images from the portrait class sitting, see entry for September 22, 2015 -- you'll have to click on the "2015 Archive" link at the top of this page.
---
To contact Philly-Bob, email me at bobmoore [at symbol] pobox.com (of course, replace "[at symbol]" with "@"].
Masthead Portrait by Remo Frangiosa, 2015

---
1/5/2018