Philly-Bob's Free-for-All 2018

One man's visual art, largely consisting of digital manipulations of images, taken from (1) my own photographs/videos, (2) downloaded from the Public Domain, or (3) utilized under the Fair Use provision of copyright law.

Portrait by Remo Frangiosa
---
Artist's Statement
Although I have been interested in art and graphic design all my life, I only began working seriously after I retired in 2010.
January, 2018, update: In October, 2017, I changed artistic direction perhaps temporarily, perhaps permanently. In preparation for the February Animation Show at Philadelphia's Plastic Club, I have switched from my usual still images to animation and video. I intend to continue doing animation -- a much more time-consuming artistic discipline, with a steep learning curve, and many more variables -- until February, and then I will decide whether or not to continue with animation and video, or to return to the still images I have been doing since 2012.
---
CARIOCAN STORY

A very long (nearly 14 minutes) critical and artistic view of a 1965 Brazilian film, A Falecida (Link1; translation from Portuguese: "The Deceased"). Took a very long time to do, with a lot of frustration, but made some technical breakthroughs. Humming ad-libbed by Janice. It's depressing at the beginning -- a death scene! -- but stick around to the end.
Sources:
Link1: archive.org/details/AFalecida1965Bras#
January 18, 2018
---
REMEMBER BROADWAY MUSICALS?

Parts of a Judy Garland performance from a 1946 musical biography of composer, Jerome Kern, Till the Clouds Roll By (Link1). Also, a kind of grumpy rant, an experiment with closing comment instead of opening comment.
Sources:
Link1: archive.org/details/ctall1956b_gmail_8881
January 10, 2018
---
MEXICAN LOVE STORY

Remarkable music and a surprising sense of female fashion in a 1952 Spanish language film, Cartas a Eufemia (Link1). Again, entirely done in Photoshop, but I think the audio levels are inconsistent, and I would have to learn to adjust them in another program or adjust them in Photoshop.
Sources:
Link1: archive.org/details/0zwm8r7L4e09ERie1952
January 9, 2018
---
A DAUGHTER'S CURSE

Experimenting with getting my own handsome mug into the mix, recreating the format of the radio news stories I did in the 1980's. Entire job done in Photoshop. Video source is 1936 Dracula's Daughter (Link1).
Finished annual switch to Philly-Bob's Free for All 2018.
Sources:
Link1: archive.org/details/DraculasDaughter1936
January 6, 2018
---
SCIENTIST VS. CORPORATIST MONOPOLIST

A scene setting up the plot of a 1938 action mystery, Bulldog Drummond in Peril (Link1).
Next move is to file away 2017 work and redo for 2018. Probably tomorrow.
Sources:
Link1: archive.org/details/BulldogDrummondPeril1938
January 4, 2018
---
MORNING SCENE

Opening sequence from a 1981 Indian movie, about the misfortunes of young girl in India in the 1920's. Here's the plot summary:
"After the passing away of her parents, Mangala moves in with her maternal uncle, his wife, and five cousins, who all live a poor lifestyle in a small town. She has a sweetheart in Anoop and hopes to marry him someday. When Anoop hesitates, her marriage is arranged elsewhere, however, on the day of the marriage, the groom meets with an accident and passes away. Her aunt quickly gets her married to a singer named Anand. After the marriage, Mangala is shocked to find that Anand is blind and detests him. When she finds out that he cares for her, she changes her mind and falls in love with him. Then Anoop re-enters her life, Anand finds out, and drives her out. Mangala returns home to her aunt, but she refuses to accept her. Then Mangala finds out that Anand has become a famous singer as well as an alcoholic. She goes to his house in Bombay, gets herself hired as a servant, calls herself Daasi, and pretends to be dumb so that Anand cannot hear her voice and recognize. Eventually she settles in, Anand is pleased with her work, but she also finds out that he hates Mangala; then publicly announces that he is going to marry a dancer by the name of Tara; Tara, catches her stealing a necklace, and to complicate matters even more - Anoop re-enters their lives again."
Happy New Year, everybody!
Sources:
Link1: archive.org/details/HXOxh8wE0jwNlaoO1981
January 1, 2018
---
A WOMAN'S REVENGE

An incident from a 1982 movie about India's fight for independence, Desh Premee (Link1; "The Patriot"). Underlying it is music by Chilean electronic musician Eduardo Yanez Torres (GOZNE) from his 2017 album Fin del Tiempo (Link2; "The End of Time").
Work was mostly done in Photoshop, which allows me to adjust sizes to dimensions other than the usual TV and movie formats.
Sources:
Link1: https://archive.org/details/JB2uF3Tdu9ug5gMD1982
Link2: archive.org/details/pn127

December 27, 2017
---
ARGENTINIAN SINGER AND FRENCH PHILOSOPHER

As year ends, I think I am moving beyond simple experiments. This one is a more finished work. It features the music of Coni Ciblis (of Buenos Aires, Barcelona, and London) combined with quote she recommended on her social media. I like her voice a lot.
Merry Christmas & Happy Holiday, everyone. Sources:
Link1: archive.org/details/ConiCibilsUnLugar
December 25, 2017
---
ARCHIVE: Webpage Proprietor's Portraits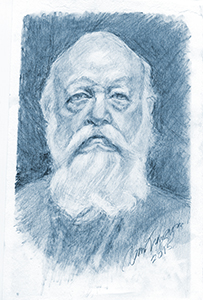 Time to change my image at top of this web page. The new image is a small pencil portrait done by Remo Frangiosa. It was done while I sat for Remo's portrait class over a two-week period at Philadelphia's historic Plastic Club in September, 2015.
The second image is a larger painting I commissioned from the Plastic Club's Andy Hoffmann.
Next are two other images also used as masthead portraits. Third image is an iPad self-portait in a coffee shop (approx. 2014). It is probably the best representation of my revulsion at the aging process and my sadness at the prospect of diminishing cognitive powers.
Fourth is an attempt to limit portrait to the fewest number of facial features and still be recognizable (approx. 2012). (Sorry: unlike the other images on this page, these masthead pictures don't enlarge when clicked...)
Fifth is a drawing done in our Open Studio workshop by Meri Collier, a Toronto-based artist and member of the Plastic Club.

For other images from the portrait class sitting, see entry for September 22, 2015 -- you'll have to click on the "2015 Archive" link at the top of this page.
---
To contact Philly-Bob, email me at bobmoore [at symbol] pobox.com (of course, replace "[at symbol]" with "@"].
Masthead Portrait by Remo Frangiosa, 2015

---
1/5/2018