Portrait by Remo Frangiosa

Philly-Bob's Free-for-All 2023

One man's visual art, largely consisting of digital manipulations of images, taken from (1) my own photographs/videos, (2) downloaded from the Public Domain, or (3) utilized under the Fair Use provision of copyright law. Also, occasional prose observations on politics and life.

Click on a pic to enlarge. May take several clicks to get full-size.



---
OLD MAN, SANDS OF TIME

An ink-drawing of Father Time, accompanying an article on health tips in a 1927 edition of "The American Legion Magazine" (Link1). Background color is supplied from non-copyrighted AI-generated images seen on the image hobbyist board 4-Chan.

SOURCES:

Link1: https://archive.org/details/sim_american-legion_1927-12_3_6

March 30, 2023

---
---
EXPERIMENT IN BRANDING II
SOURCES:
March 28, 2023

---
---
EXPERIMENT IN BRANDING

Quick typographical experiment in branding idea for the Zoom group which I host every Tuesday for the Plastic Club, a Philadelphia arts club.

The font is "Neo-Euskal-Herria" by Spanish artist Woodcutter (Link1). Euskal-Herria is a historic name for the Basque region of Spain.

The image behind is a black-and-white photo of grapes from a 1927 catalog for Fancher Creek Nurseries of Fresno (CA) (Link2).

SOURCES:

Link1: https://www.dafont.com/neo-euskal-herria.font
Link2: https://archive.org/details/fruittreepriceca1927fanc/

March 27, 2023

---
---
ARMORER'S RUNIC REPORT OF EXPLODING AR-15

Picture shows an AR-15 combat semi-automatic rifle with parts made of plastic, which exploded when user pulled trigger. From "Firearms Blog" (Link1): "An exploded AR-15, which doesn't happen with frequency. Note that the upper receiver has damage as well, so this could have possibly not been the fault of the polymer lower, but some other cause." The link leads to voluminous argumentation over what could have caused explosion.

Background/frame is other images of metal gunsmithing. I like the look of machined metal.

The dingbat font is Amphibia Runes by sulkyeyra (Link2).

SOURCES:

Link1: https://www.thefirearmblog.com/blog/2017/01/04/polymer-ar-lower-exploded/
Link2: https://www.dafont.com/amphibia-runes.font?sort=date

March 26, 2023

---
---
FAILED FABRIC REPEATING PATTERN

Spent two days trying to a tileable fabric design for an upcoming exhibition, but didn't get it right. This is intermediate result.

SOURCES:
March 18, 2023

---
---
GOLDEN AGE OF RADIO, TWO VERSIONS

Radios were an exciting development at one time, like computers and AI in our time. My father, a curious, intelligent soul, was in on the excitement: plans for a simple crystal radio set were published in 1920 and my father (born 1904) built one.

Here, a collage of black-and-white illustrations from ads and editorial material in a 1927 issue of "Radio" magazine (Link1), a hobbyist magazine.

In the center is an ink-drawing of curious boy (watched intently by his dog) climbing on a chair to play with the controls of a dresser-sized radio, an Equaphase receiver made by Charles Freshman Co, only $185, "plug in your light socket and listen."

The background is composed of two elements: (1) a crude radio receiver kit of the time by Karas Inc. It's to the left and right side of the curious boy, showing transformers and inductance coils that look like tuna-fish cans.

(2) in the center, behind the big cabinet radio, is the magazine's cover image, an elaborate fantasy scene with trumpet-playing angels galloping through space on horses.
---
The second image is the same as the first without the cute illustration. Part of an experiment to determine whether the original abstract pattern is better without the heart-warming human element.
---
It's Janice's and my 38th anniversary as a couple. I got it pretty good -- as long as I can put up with her occasional temper tantrums, which are verbal, not violent, and if the rigors of old age remain tolerable. And if we don't run out of money. At the moment, I'm a lucky man.

SOURCES:

Link1: https://archive.org/details/sim_audio_1927-12_9_12

March 17, 2023

---
---
IN ENGLISH TRANSLATION:
Intimate Letters Of A Finnish Artist
NOTE: Bob Moore reviews books written in foreign languages whose translations into English have won prizes.
The 2021 prize for translation from Swedish into English went to Tove Jansson's "Letters from Tove" translated by Sarah Death.
Jansson (1914-2001; self portrait above, age 28; next to it, self-portrait age 61) was a Finnish painter and writer who developed a cartoon family of hippo-like animals, the Moomins, which were as popular in her culture as Al Capp and Garry Trudeau were in ours.
All her life, Jansson poured her soul out in long letters to a variety of friends and lovers, translated in this 500-page book.
She describes her student days in Paris: "Let me tell you -- Paris is definitely the right place to deal a blow to the final vestiges of one's inferiority complex! One simply has to get over it to survive. If you are the least bit shy, compliant, apologetic or anxious, you end up feeling like a doormat before the day is over. All the concierges, constant little faux pas in matters of etiquette and French custom, the women with their devastating self-confidence, beauty and refinement of dress, haughty garcons, cheeky gamines, sales assistant who try to cheat you as much as possible and almost despise if you don't haggle, a blase restaurant clientele always eager to find fault, etc."
She returns to her family in Finland in time for the "Winter War" (1939-49) when Russia invaded tiny Finland. "Then the news came on the radio... Papa just came in and said 'Well that's it then.' Nothing more was said, we just each of us went and got on with packing..."
She describes the awkwardness of relationships with soldiers on leave: "He was here incognito, came straight to the studio with flowers, an icon, ... war souvenirs. He was so tired, and lay down for a sleep while I mended his clothes and boiled macaroni for breakfast... We had a celebration dinner with wine and a [cooked bird]... It seemed such a solemn occasion that we hardly said a word as we sat there chewing on our bones. Just to think that he's one of only 10 left out of the 200 who left." (In the short war, Finland suffered 25,000 casualties.)
As Tove grows, she finds she is attracted to women, but since same-sex relations are illegal in Finland (and will remain so until 1971), she is reticent and speaks in code -- of "ghosts." Much of her correspondence is with an absent "ghost" lover in America. But Tove also proposes (by letter) marriage to a man, a political leader and he accepts, replying: "Tove, is it true we aren't married yet? I thought we were, we must have neglected to do it somehow. It's just a formality of course."
Much of the book centers on her career and lively social life. A good BBC documentary on her life is at https://www.youtube.com/watch?v=SAsGD9YLT50. A movie based on Tove's book "A Summer House" is in production starring Glenn Close.
SOURCES:
March 15, 2023

---
UKRAINIAN FLAG RAISING, SOLDIER IN BRAIDS, AMERICAN LACE

The overall design is based on an advertisement in the 1927 catalog "New Outlooks for Every Home" by Scranton Lace Company (Link1).

Inside, a photo of a female Ukrainian soldier (with long braids) from the 47th Mech Brigade, resting with her rifle before a church (Link2).

Behind that, a photo of a Ukrainian soldier raising the country's flag over a reconquered village near Kherson last September. (Link3)

The small circular figure at the bottom is the illustration that was originally inside the larger circle filled with Link2 and Link3 images, an American housewife making a bed, colors inverted.

SOURCES:

Link1: https://archive.org/details/newoutlooksforev00scra_0/page/n21/mode/1up
Link2: https://medium.com/@Stefan.Korshak/march-8-day-378-womens-day-big-cheese-that-really-matters-counting-the-stuff-3d17554f034d
Link3: https://novynarnia.com/2022/09/04/na-hersonshhyni-zsu-vstanovyly-prapor-ukrayiny-nad-zvilnenym-vysokopillyam-foto/

March 15, 2023

---
---
FRIDAY THIMBLE, BROACH & INDIAN SCRIPT
SOURCES:
March 10, 2023

---
---
DISPLAYS AND DISPLAY LIGHTING

All images are from a single source: the 1927 issue of "Display Lighting" (Link1), including three different lamps for lighting up window displays and two images of featured storefront displays.

SOURCES:

Link1: https://archive.org/details/sim_vmsd-experience-retail-now_1927-12_11_6

March 9, 2023

---
---
AFTER ZOOM RUSH

Background is a painting by Heinrich Campendonk, a lesser known artist of the influential German "Blue Rider" school (Link1). Other elements in this image are from other sources including the 1925-27 edition of "The Journal Of The Linnean Society Of London" (Link2) and a chart of bolt-types for construction, from "Engineering Choice" (Link 3).

SOURCES:

Link1: https://www.theartnewspaper.com/2023/03/07/a-little-known-blaue-reiter-artist-is-brought-to-life
Link2: https://archive.org/details/dli.ernet.229139
Link3: https://www.engineeringchoice.com/types-of-nuts-and-bolts/

March 8, 2023

---
---
THURSDAY PLASTIC CLUB OPEN WORKSHOP, 3/2
SOURCES:
March 7, 2023

---
---
JURY DUTY, 1927
SOURCES:

Link1: https://archive.org/details/sim_life_1927-12-22_90_2355

March 6 2023

---
---
MESSAGE ON PRAYING HANDS

Background is a photograph of hands of several people overlapping, from a 1994 arts magazine "Kunst & Museumjournaal" (Link1), with considerable digital alteration.

The text is from a Dingbat font, "Lightnitria" (Link2) by Tephy_Chan.

SOURCES:

Link1: https://archive.org/details/pocahontasorindi0000paul/ (the digital file is miscatalogued as the 1873 "Pocahontas: or, The Indian maiden"
Link2: https://www.dafont.com/lightnitria.d10574?sort=date


March 2, 2023

---
---
LONELY TREE FROM OIL & GAS JOURNAL

A composite of two images from a 1927 issue of "The Oil & Gas Journal" (Link1)

SOURCES:

Link1: https://archive.org/details/sim_oil-gas-journal_1927-12-29_26

March 2, 2023

---
---
ARTIST AND SISTER WITH HORSE

Sometime around 1950, a photographer traveled through residential neighborhoods on the East side of Detroit with pony in tow. My parents paid the charge for a photo of my older sister Mimi and myself with the horse. Visiting my sister's house, I saw the picture, snapped a photo, and send it through my digital processing routine, which, if you zoom in, gives it a strange mirage-like shimmer.

My sister lives in suburban Richmond, Virginia, near her grandkids. It is the first time I've been more than a mile from my Philadelphia apartment in 13 months, since I had medical problems. I took the train for the five-hour. 200-mile trip -- no complaints.

SOURCES:
February 25, 2023

---
---
PAPER TECHNOLOGY MACHINES OVER CAMOUFLAGE

A collage of machines from a 1927 issue of "Paper Trade Journal" (Link1) serve as a background for a couple thoughts I've been having about -- remarkably -- things that get better as you get older:
Whenever I move an object or place my foot on a surface, I have a part of my mind that does a quick nanosecond estimate as to whether the motion is likely to cause an accident and, if so, calculates an appropriate adjustment. I don't think I did this as a young man.
I have a well-practiced procrastination drama loop -- "If I'm to make my appointment or do my errands or get to class, I have to stop what I'm doing right now -- but I'm a big baby, and I won't!" -- with the same feelings of guilt and urgency. But I find now that when I finally do pull out of the procrastination loop, I usually make my appointment or job. I've learned what the last minute really is. I think the trick is to use the procrastination time to preview the necessary steps to get the job done, so when I finally rouse myself from lethargy, I know exactly what to do.
The design is placed over an A.I. "camouflage" print generator (Link2).

SOURCES:

Link1: https://archive.org/details/sim_paper-trade-journal_1927-12-29_85_26
Link2: http://www.happyponyland.net/camogen.php

February 19, 2023

---
---
IT TOOK MUSCLE TO BUILD A CITY IN 1927

Some of you may have noticed that I have adjusted the "trawling ground" where I seek images. Lately, I have been using the four sites named in the first paragraph of an article (Link1) on new works entering the public domain on January 1, 2023 -- that is, works copyrighted in 1927.

Two sources for today's image come the periodical link, a "Saturday Evening Post" 1927 edition (Link2):

A bare-chested builder examines a blueprint in an ad for "Certain-teed" building products, as he towers over three metropolitan areas, at bottom (from left): industrial, downtown, and residential; and

Over his shoulder, an exterior view of the newly built Stevens Hotel in Chicago (now the Chicago Hilton).

I am thinking of entering this in the Plastic Club's "Bright Lights/Big City" exhibition. It seems an icon of what was once a Male Supremacy dominant in this country, now in decline.
---
In second version, goofed around with addition of cartoonish X-ray eyes, to dilute the beefcake of the original image. But that's not the one I entered into the exhibition.
SOURCES:

Link1: https://blog.archive.org/2023/01/01/welcoming-1927-to-the-public-domain/
Link2: https://archive.org/details/sim_saturday-evening-post_1927-12-31_200_27.


February 16-18, 2023

---
---
A.I. BRA GENS, WITH DOMESTIC TOOLS & MACHINERY

A collage of several images from 1927 trade papers, such as "Hardware Age" and "Domestic Engineering." Unfortunately, the sources were lost.

It also includes a copy of an A.I.-generated image from 4-Chan's "b" group, showing a young woman in a lavishly decorated bra, with the skin whited out.

SOURCES:
February 16, 2023

---
---
ISADORA DANCERS AND EGYPTIAN FUNERAL URNS
SOURCES:
February 14, 2023

---
---
VALEN-WHO? A.I. DAINTIES & FRILLS
.
One of the oddities in A.I.-generated soft-core porn, besides its difficulties with feet, fingers, and genitalia (see Feb. 8 entry) is the magnificence of its treatment of frills. The lace on an A.I.-generated bra or panties is far more detailed than real-life garments, produced under the economic constraints of mass marketing. The background image here is a collage of some of these over-the-top decorated dainties.
The heart is a Photoshop Shape and the font is Walerina Monogram (Link1) by Abo Daniel Studio (Link2).
SOURCES:

Link1: https://www.dafont.com/walerina-monogram.font
Link2: https://www.creativefabrica.com/designer/abodaniel/ref/236322

February 13, 2023

---
---
PIPES AND LIGHTNING
.
SOURCES:
February 12, 2023

---
---
IN ENGLISH TRANSLATION: Joyful Journey Through Musical History
NOTE: Bob Moore (#1216) reviews books written in foreign languages whose translations into English have won prizes.
The 2021 prize for translation from Spanish into English went to Luis Sagasti's "A Musical Offering" translated by Fionn Petsch
Sagasti (born 1963, photo from "La Voz") is an Argentinan teacher and museum curator. The book is not a novel, not a set of essays, but a series of thematically related anecdotes from musical and art history. Someone who has studied the letters and biographies of history's great musicians shares details of the artists' lives and circumstances in an exhilarating tour of human creativity.
The ostensible subject is Lullabies. It begins with an amusing account of Bach's pieces designed to put an insomniac nobleman to sleep. Then a torrent of stories, all over time and place, from Australian aboriginal music to modern lullabies by the Beatles and the Rolling Stones, and finally circling back to Bach and a puzzling, friendly farewell, -- wishing his readers good night (in Russian).
Are the stories all true? Did someone in 1902 write a "Symphonic Poem for 100 Metronomes"? Is there a Swiss village that built a pipe organ so large that it buried itself in an avalanche? I don't know. I don't care. There is an element to Sagasti's writing that is science fiction and fable.
There are many references to Scherezade, the new wife and storyteller from the Middle Eastern collection of stories "One Thousand and One Nights," forced to spin a tale so entertaining that her murderous royal husband wants to hear it continued for one more night.
There is Olivier Messian's account of a concentration camp orchestra he organized: "The four musicians played on broken instruments ... the keys on my upright piano remained lowered when I pressed...[the musicians were dressed] in the oddest way, in completely tattered clothes and wooden clogs large enough for the blood to circulate despite the snow underfoot."
There is Native American sandpainting. in which "the Navajos traced patterns with a startling purity, but always left a small area blank; this meant the drawing was incomplete. A double lock on the gates to the soul; a way to prevent the paintings from commencing their tasks."
The translator explained the book's intended effect: "Gradually, a pattern emerges from this mosaic that attests, among other things, to the importance of music and art to our moments of crisis and extreme emotion, elation and abjection alike."
There is much talk by Sagasti about how silence plays a crucial part in music, but, being musically unsophisticated, I didn't quite get it, Whether or not I understood Sagasti's thesis, however, the stories, one after another, stream-of-consciousness style, are instructive and entertaining, a happy 100-page read, especially compared to last month's 400-page grim tale of a World War I prisoner of war.
SOURCES:

The translator interviews the author at https://southwestreview.com/the-music-of-silence-an-interview-with-luis-sagasti/.

February 11, 2023

---
AD DESIGN WITH ELECTRIC CHAIR & DISTORTED WHEEL
.
SOURCES:
February 11, 2023

---
---
COLLAGE OF CUTE BABY & CUTTING MACHINE:
.
SOURCES:
February 9, 2023

---
---
INTERFERENCE PATTERN WITH HEART:
AI-Generated Figure with two penises and one vagina
.
I watch the flood of works being created these days using AI-generation text-to-image technology. Many of them show young girls of perfect (if cold and expressionless) beauty. But some practitioners figure on making money in the porn industry with hard-core explicit images. The problem is that AI-generation technology is terrible on certain anatomical details: fingers, toes, and genitalia. The failures of would-be hard-core porn makers are hilarious in a disturbing way. In the background is a collage of these failed porn images, mercifully obscured for the sake of the viewer, but one image is clearly in the foreground: a glamorous, Farrah Fawcett beauty squatting to display a nonsensical set of genitalia, one long penis dangling down, a shorter penis pointing up, and a vagina next to the short penis.
SOURCES:

Images from 4-chan \b board

February 8, 2023

---
---
INTERFERENCE PATTERN WITH HOME TEAM RAH-RAH
The left image is an interference pattern, created by superimposing a collage of two advertisements for appliances and a set of punched sieves from the 1927 edition of "American Artisan and Hardware Record" (Link1), a trade magazine for the heating industry.
Another layer is a display of coins from the reign of Varahran in Iran around 300 A.D. from "The numismatic chronicle and Journal of the Royal Numismatic Society" (Link2)
The right image is the same interference pattern, dimmed, with text using Iconian Fonts/Dan Zadorozny's "Fly Eagles Fly" dingbat font (Link3). Zadorozny is a Philadelphia native who says he "bleeds green and silver."
SOURCES:

Link1: https://archive.org/details/sim_american-artisan-the-warm-heating-and-sheet-metal_1927-12-31_94_27
Link2: https://archive.org/details/dli.ministry.18042
Link3:  https://www.dafont.com/fly-eagles-fly.font

February 5, 2023

---
---
CARTOON 1920'S STYLE
The cartoon of the eager football player comes from a 1927 issue of the popular humor magazine Judge (Link1), published 1881-1947. I do not know the name of the cartoonist, although I have seen the style before. If you can identify the cartoonist, let me know.
The cartoon is mounted inside a drawing of a machine advertised in a 1927 edition of the trade journal "Engineering and Mining Journal" (Link2).
SOURCES:

Link1: https://archive.org/details/sim_judge_1927-12-31_93
Link2: https://archive.org/details/sim_engineering-and-mining-journal_1927-12-31_124_27/


February 3, 2023

---
---
ELECTION RIOT, ENGLAND, 1768

"Piers Plowman" is the name of a 14th-century English religious poem. 500 years after it was written, a group of English academics penned a series of books based on that poem. One was a history of England, called "Piers Plowman Histories Junior Book VII" (Link1), which described violent riots at parliamentary elections in Middlesex in 1768 (pictured).

SOURCES:

Link1: https://archive.org/details/in.ernet.dli.2015.215895


February 1, 2023

---
---
CITY LIFE, TRANSPORTATION, PLUMBING IMAGINED 1927
A composition made up of four elements:
In the background, an artist's conception (Link1) of a downtown transportation center serving airplanes, trains, and buses, from the 1927 "American Lumberman" trade journal. The caption reads: "Call a taxi, drive to the station, be whisked by an express elevator to the roof, board a cabin de luxe airplane, and in a few hours arrive at your remote destination."
Overlaid on that drawing, is a quilt pattern called 'The Airship', from a 1927 issue of "The Progressive Farmer" (Link2).
The object in the center is composed of a flush valve from a 1927 issue of "Domestic Engineering" (Link3) combined with a folding ceiling ladder from the "American Lumberman" referenced above.
SOURCES:

Link1: https://archive.org/details/sim_home-improvement-center_1927-12-31_2746
Link2: https://archive.org/details/sim_progressive-farmer_1927-12-31_42_53
Link3: https://archive.org/details/sim_plumbing-heating-piping_1927-12-31_121_14

January 31, 2023

---
---
` REVIEW OF AI-GENERATED IMAGES (0:30)

SOURCES:
HEADGEAR images AI-generated by Anonymous and uploaded to 4-Chan /b "AI DEGENerated Art" thread on 1/26/2023
MOTHGIRL images AI-generated by Dantion and uploaded to 4-Chan /b "AI DEGENerated Art" thread on 1/30/2023 (Link1). See also Mothgirl images on my web page on 1/9/2023.
MUSIC: Song "Cold Black Oil" on album INTRO by Mr. and Mrs. Smith (musician Hollis Smith) (Link2).

Link1: https://boards.4chan.org/b/thread/893548991
Link2: https://archive.org/details/BSINT0002


January 30, 2023

---
---
VISIT TO PLASTIC CLUB THURSDAY WORKSHOP
After a long absence, I returned to the Plastic Club's Thursday morning Open Workshop, moderated by neighbor Ted Gutswa.
Did one quick image (left), using Sharpie-type pens and Crayola crayons, trying to visualize how the brain connects random sensory inputs (blue & yellow explosions) into a stream of consciousness semi-narrative (green glob). In a rush, left interim title "Title" in the red and orange bricks at top.
Unexpected treat because visitor George Herquet not only played violin, but also did a portrait of me (right).
January 27, 2023

---
---
UKRAINIAN SOLDIERS SHELTER IN ANGEL WINGS
There is a brutal war going on in Europe, as Ukraine resists a Russian invasion. To me, it is clear that Ukraine has the moral high ground. A system of governance where one country can invade their neighbor at will is unstable.
I follow the war closely. There is a kind of sentimental religious style in the art, as in this image, a posed photograph, from 4-Chan's "K" (Weapons) board (Link1), which shows two camouflage-clad soldiers (perhaps a father and son) huddled under the wings of a Ukrainian holy mother figure.
There is also another style, which shows young women (usually with a cat) sitting before a window, contentedly sipping a cup of coffee, thankful for the beautiful morning and saying a prayer that the soldiers at the front return safely.
This touches me because it reminds me of the World War II situation I (born 1944) was too young to remember: my mother, sister, and I awaiting our father's return from that other European war.

Link1: https://boards.4channel.org/k/thread/56709245 (since removed)

January 26, 2023

---
THREE DESIGNS
Busy getting ready for Janice's show, which opened Friday 1/20 -- and exhausted after, so late and sparse on the bibliographic notes for these two.
First image is from a 1927 edition of "American Artisan and Hardware Record" (Link1), a trade magazine for the heating industry. It shows the cold and warm air pipes in a furnace installation in Fort Wayne, Indiana. The furnace face happened to be the exact same dimensions as a famous photo of a tail gunner in a WWII British bomber installed in a British museum (Link2).
On the quotation, Safa is a UN Human Rights activist (Link3), originally from Lebanon. The quote is sometimes (falsely) attributed to Nelson Mandela. Safa's Twitter handle is @mhdksafa (Link4). The font is Gentium Book Basic (Link5).
A confused draft of a Valentine day card, using Photoshop's standard heart shape and images from the 1927 product catalog, called "Distinctive lighting fixtures" (Link6) by Beardslee Chandelier Mfg. Co. of Chicago.

Link1: https://archive.org/details/sim_american-artisan-the-warm-heating-and-sheet-metal_1927-12-31_94_27
Link2: www.flickr.com/photos/mrelliott 
Link3: https://en.everybodywiki.com/Mohamad_safa
Link4: https://www.reuters.com/article/uk-factcheck-quote-divided-world-nelson-idUSKBN26X1Y3
Link5: https://en.maisfontes.com/gentium-book-basic.font
Link6: https://archive.org/details/distinctivelight00bear

January 21-25, 2023

---
IN ENGLISH TRANSLATION: Harrowing Ordeal of WWI Hungarian POW in Russia
NOTE: Bob Moore (#1216) reviews books written in foreign languages whose translations into English have won prizes.
The 2020 prize for translation from Hebrew into English went to Avigdor Hameiri's "Hell on Earth" translated by Peter C. Appelbaum.
It is the second volume of Hameiri's memoirs of World War One. The first volume, "The Great Madness," covered Hameiri's experience as an officer in the Austrian army. His unit was captured by Russians in 1916.
"Hell on Earth" continues Hameiri's story, as he moves from railcars to camps to fugitive status, all the way to Siberia and back. Along the way, he hears about the Russian Revolution, the changing fortunes of war, and the Balfour Declaration (which called for a national home for the Jewish people).
Although Hameiri, a recognized poet in Budapest, started the war as a patriotic Hungarian with literacy in Hebrew, over the course of his travels, as he met Jewish families, he became a Zionist. The conclusion of "Hell on Earth" shows him preparing to depart for Israel, where he will fight in the 1948 War for Independence.
This simple account of Hameiri's life does not communicate the strength of his writing. He describes scenes of grim horror -- ever-present vermin, medical experimentation on prisoners, ghastly food, the brutality of guards -- and he describes sacrifice, friendship and camaraderie, all in the same spare, deadpan, but allusive prose. The prisoners discuss religious questions, ethnic division, and philosophy with bluntness and honesty. The book reads as a series of anecdotes, which is probably what made it a best-seller in Israel.
For instance, here are Hameiri's thoughts on geopolitics after a rumor spreads through a village that he is a German spy:
"Do I want us to win this war? Should its purpose only be to remove dictatorships?

"I search my soul. In the whirlpool of this war, no country properly understands the plight of smaller nations 'attached' to the Austrian and Germany monarchies. Even if the Central Powers are victorious, what do these countries gain? Take Hungary for example. What would we gain? A larger slice of the pie? ... Most importantly, this bloody war revolts me; all wars revolt me. No, I won't deceive myself by saying that I want to trumpet victory into the faces of the wretched, conquered Russian people. We're all companions in the misfortune of this horrible war.

"On the other hand, if our side loses... what will be the fate of poor, wretched Hungary, reluctantly following Germany and Austria, singing its touchingly sad songs of farewell all over the front... Hungary's task is that of a lightheaded gigolo pursuing his mistress, Vienna, the beautiful, protecting her against all danger. In peacetime, he provides her with white bread, wine, beautiful music, and material assistance to support her 'court'... Now, when we're at war, he protects her with his body, and takes up her cause."
The book, tough-going at 458 pages, includes Hameiri's wry cartoon-like pencil drawings.

Photo of Hameiri: https://israeled.org/wp-content/uploads/2020/04/3-685x1024.jpg

January 19, 2023

---
BRONTOSAURUS AND OLD NEW YORKER DESIGNS
Combining three images from a 1927 New Yorker (Link1): two decorative borders for ads and a cartoon of tourists examining a skeleton of a Brontosaurus dinosaur. (Thanks for correct identification of dinosaur, Al.)

Link1: https://archive.org/details/sim_the-new-yorker_1927-12-31_3_46

January 16, 2023

---
---
GIRL WITH OLD ELECTRONICS
January 16, 2023

---
---
RESISTING SYMMETRY IN INTERFERENCE PATTERN
A combination of three elements: botanical illustrations from the newly-public- domained 1927 Indian "Records of the Zoological Survey" (Link1), an AI-generated waterfront scene from Reddit user "Wookieenon" from Reddit's "/b" (random) board (Link2), and a dingbat from a Woodcutter font "Pink Panther" (Link3).
Another interference pattern, with elements centered in the rectangle. But two closing twists: (1) uncentering some elements of the composition and (2) showing just a detail of the whole composition.

Link1: https://archive.org/details/dli.zoological.records.029.04
Link2: https://boards.4chan.org/b/ (AI-DeGENERATE thread, since removed)
Link3: https://www.dafont.com/the-pink-panther.font

January 12, 2023

---
---
RELAXING INTERFERENCE PATTERN

You see it in most every detective drama. When the police are tracking down a suspect, they use a wall covered with pictures. And if the suspect they are seeking is a stalker or serial killer, that suspect also usually has their own wall covered with pictures. Often, there is red yarn connecting pictures, ideas, headlines, etc. That's what this website is to me: the wall where I make connections.

When my brain and soul get overheated, I find great relaxation in constructing simple compositions like the one above. I don't have the true artist's mastery of asymmetry and design -- I simply overlap and center several images within a rectangle -- but it feels good, and I view the resulting patterns like emerging miracles.
January 9, 2023

---
---
` MOTHGIRL: AI-GENERATED PSUEDO-REALITY (1:14)

NOTE: Text-to-Image (T2I) is a type of Artificial Intelligence program that takes a formatted piece of text and turns it into a corresponding image.
SOURCES:
IMAGES: In a January 2023 thread on 4-Chan's "\b" (random) image board, user "Dantion" offered a T2I text description called "Mothgirl" along with the corresponding image, of a young Albino girl dressed in fairy clothes, surrounded by moths and butterflies. "I really want to see [M]othgirl in different models," Dantion said. A number of other users responded with their own T2I interpretations of Dantion's Mothgirl text. (The Mothgirl text is shown at the end of this video.) There were 12 contributors to the Mothgirl thread, going under pseudonyms, among them "Anonymous", "Obscure Anon", "Selph Destruct", "Bad Anatomy", and "Moist".
The prompt is difficult to understand, but it does point to two 19th century artists for style transfer: English genre painter Charles Spencelayh (Link2) and German realist painter Adolph Menzel (Link3).
MUSIC: A rather goofy version of the 1927 Tin Pan Alley standard "Ain't She Sweet," from the 1961 album 'The Percussive Twenties' by Eric Rogers and his Orchestra (Link4). which just entered the public domain on January 1.
There are some marvelous covers around. The unfortunately-cancelled dance drama "Bunheads" had instructor Sutton Foster use it to teach students how to audition (Link5).The Beatles played it for years in their Hamburg sojourn and recorded it in 1961 (Link6). In 1933 cartoon pioneer Max Fleischer and Lillian Roth combined live action and cartoons (Link7) .

Link1: https://boards.4chan.org/b/
Link2: https://en.wikipedia.org/wiki/Charles_Spencelayh
Link3: https://en.wikipedia.org/wiki/Adolph_Menzel
Link4: https://archive.org/details/lp_the-percussive-twenties_eric-rogers-chorale-and-orchestra-eula-par
Link5: https://www.youtube.com/watch?v=6WkgaIeAbA0
Link6: https://www.youtube.com/watch?v=e1FSRMfNtLU
Link7: https://upload.wikimedia.org/wikipedia/commons/transcoded/1/1e/Ain%27t_She_Sweet_%281933%29.webm/Ain%27t_She_Sweet_%281933%29.webm.360p.webm


January 9, 2023

---
---
LIBERATED INTELLECTUAL PROPERTY ON JANUARY 1ST

Cover of sheet music for a 1927 novelty song (Link1) that became a folk-classic, with lyrics no one knows except it's ten-word refrain: "I scream, you scream, we all scream for ice cream." It recently came into the public domain with other books, movies, and song published in 1927 (Link2).

A 1925 version by Fred Waring's Pennsylvanians is at Link3. An undated but swinging version by Swedish Gunhild Carling is at Link4.

Link1: https://en.wikipedia.org/wiki/Ice_Cream_%28I_Scream,_You_Scream,_We_All_Scream_for_Ice_Cream%29
Link2: https://blog.archive.org/2023/01/01/welcoming-1927-to-the-public-domain/
Link3: https://www.youtube.com/watch?v=-0pfP_MD6xA
Link4: https://www.youtube.com/watch?v=E7I_cFMyeSM

January 7, 2023

---
---
AI-GENERATED WAIF ON ORNATE ARCHITECTURAL DESIGN

The girl in the foreground is an AI-generated image that appeared in a "AI DEGENerated Art and Porn" thread on 4-Chan's "B" bulletin board (Link1). The image in a manga comic book style was generated by user Daru-San, who casually explained "[S]uppose [I']ll post my '[A]bandoned to her own devices cause we don't have the food to feed everyone this coming winter' girl."

AI-generated art right now appears mainly in venues filled with porn, mainly because the AI-generation programs are so complicated that only fifteen-year-olds can run them. And you know what fifteen-year-old boys are thinking about!

The image is mounted in a complicated title-page design from a 1929 issue of the Argentinan "Revista De Arquitectura" (Link2).

Note that a recent legal decision (Link3) held that AI-generated work is not entitled to copyright protection.

Link1: https://boards.4chan.org/b/thread/892041052 (since removed)
Link2: https://archive.org/details/revista-de-arquitectura-ano-xv-numero-102.pdf
Link3: https://aibusiness.com/ml/ai-generated-comic-book-loses-copyright-protection

January 5, 2023

---
---
ARCHIVE: Webpage Proprietor's Portraits II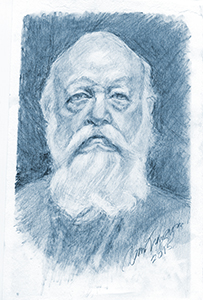 ---

Time to change my image at top of this web page. The new image is a small pencil portrait done by Remo Frangiosa. It was done while I sat for Remo's portrait class over a two-week period at Philadelphia's historic Plastic Club in September, 2015.
The second image is a larger painting I commissioned from the Plastic Club's Andy Hoffmann.

Next are two other images also used as masthead portraits. Third image is an iPad self-portait in a coffee shop (approx. 2014). It is probably the best representation of my revulsion at the aging process and my sadness at the prospect of diminishing cognitive powers.
Fourth is an attempt to limit portrait to the fewest number of facial features and still be recognizable (approx. 2012). (Sorry: unlike the other images on this page, these masthead pictures don't enlarge when clicked...)
Fifth is a drawing done in our Open Studio workshop by Meri Collier, a Toronto-based artist and member of the Plastic Club.

---
Next row: three photos of pictures done when I sat for our Portraits class, followed by an image by Paul Jones and a self-portrait done in my recent frame/winged trilobite style.
Last are five new images from Mike Nathan of our Tuesday Digital Share. Mike spent a lifetime doing wedding photographs and uses those skills to craft "Digital Compositions" poking fun at Tuesday Share members -- especially long-bearded Bob.
---
12/31/2021

---
AI BACKGROUND AND NEW AGE POSTURE EXERCISE

In the foreground, a diagram of a posture exercise from the 1974 "Somo-psychic Power: Using its Miracle Force for a Fabulous New Life" (Link1).
"Would you like to be more successful at your job? Do you need to find financial backers for your money-making idea? Do you wish your sex life was more exciting? Do you suffer from constant aches and pains? Would you like to turn your worst enemy into your biggest supporter? Do you long for happiness, success, health, wealth, and friendship?"
In the background, an AI-generated still life, light filtering through bottles on an alchemist or apothecary table (Link2). Unfortunately the link has gone dead so I can't credit the uploader by name. I like his work.

Note that a recent legal decision (Link3) held that AI-generated work is not entitled to copyright protection.

Link1: https://archive.org/details/frank-rudolph-young-somo-psychic-power
Link2: https://boards.4chan.org/b/thread/891195076 
Link3: https://aibusiness.com/ml/ai-generated-comic-book-loses-copyright-protection

December 22, 2022

---
---
GRIM STORY OF A JOURNEY THROUGH POSTWAR GERMANY
NOTE: Sometimes Bob Moore reviews books written in foreign languages whose translations into English have won prizes.
---
The 2021 prize for translation from French into English went to Hubert Mingarelli's "The Invisible Land" (Link1) translated by Sam Taylor.
This slim (137-page) novel takes place in a defeated Germany, shortly after the Nazis surrendered. It follows a war photographer, his assignment finished, waiting to go home. Impulsively, he decides to take a short trip to photograph German families in their homes. An occupation officer assigns him the fancy limousine of an executed German officer and assigns a young American, O'Leary, as his driver and body guard.
The novel covers the two weeks the photographer and O'Leary travel around, almost aimlessly.
The time and place provide horrors enough -- including bodies in a concentration camp, corpses floating in rivers, and the grim mistrust and hostility of the defeated Germans. But Mingarelli handles these matters with a light touch.
What gives the novel its haunting tone is the everyday life of the two travelers:
"I fell asleep and dreamed about the tarpaulins that we'd spread over the dead that night, and in my dream they lifted up and we thought it was the wind and even though we hammered stakes into the ground to hold them down they still kept lifting up. We held them down with our hands, using all our strength, but a greater force continued to lift them up and each of us knew deep down that it was the dead, pushing at the tarpaulin with their gray legs."
O'Leary and the photographer share the discomforts of camping out in the car, form no attachments with the German citizens they photograph, and know nothing of the larger world. The book ends as the two are returning to the car after one last photography session, during which a miscommunication led O'Leary to shoot a farmer.
The two trudge back to the car.
"For more than an hour only our footsteps reverberated in the night. O'Leary's kept fading behind and I kept stopping and waiting for him. After a while, as we were walking together, I said: 'The sea isn't far, O'Leary. Check the petrol when we get to the car and if you think we have enough left, we can try to find somewhere near the water where we can sleep. You want to try that?' "A long time after, as we were approaching ... the car, I heard a word muffled by a sigh and I thought he was murmuring an answer to himself, that he'd said yes to a question he had asked inside his head. And just as I remembered the question that I had asked him, he whispered, the words half-broken by a sob: 'Yes, sir, we can try.'"
Is that optimism, or pessimism?
Sadly, Mingarelli (pictured above) died of cancer in Grenoble, France, in January of 2020.

Link1: https://en.wikipedia.org/wiki/Hubert_Mingarelli


December 21, 2022

---
---
` HIDING IN PLAIN SIGHT: CAMOUFLAGE (0:44)

SOURCES: IMAGES: Eight camouflage patterns discussed in a thread on Reddit's 'K' (Weapons) board (Link1) MUSIC: Excerpt from 1949 suite "The Battle of Stalingrad: Stalingrad in Flames" (Link2) by Soviet and Armenian composer Aram Khatchaturian (Link3) FRAME COLOR: "Coyote Brown" (Link4)

Link1: https://boards.4channel.org/k/thread/56358556
Link2: https://archive.org/details/lp_the-battle-for-stalingrad-the-fall-of_aram-khatchaturian-dmitri-shostakovich/disc1/01.02.+Suite+From+The+Film+%22Battle+For+Stalingrad%22%3A+Stalingrad+In+Flames.mp3
Link3: https://en.wikipedia.org/wiki/Aram_Khachaturian
Link4: https://colorcodes.io/wp-content/uploads/2020/07/Coyote-brown-color-swatch.jpg

December 23, 2022

---
---
UH-OH! NEW YEAR CHORE AHEAD

Time to create a web page for 2023 and file the web page for 2022.

In order to clear time for this task (1. Philly-Bob's Free for All 2023), and for (2.) installing a new computer for Janice, and for (3.) figuring out money and taxes for next year, I'm going to cut back on my work this week.

And this post will be the first post on my page in 2023.

December 10, 2022

---
To contact Philly-Bob, email me at bobmoore [at symbol] pobox.com (of course, replace "[at symbol]" with "@"].
Masthead Portrait by Remo Frangiosa, 2015

---
12/31/2022